Lunar horoscope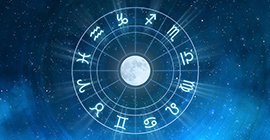 A lunar horoscope is a map compiled at the time when the transit moon returns to the position it occupied at the moment of the birth of the person (native). Lunar return is repeated approximately every 27 days and 8 hours - this is the sidereal cycle of the Moon. This horoscope is calculated using the coordinates of the place in which the person was or plans to be. In the case of moving and finding at this time in another locality, it is necessary to recalculate the lunar for new coordinates.
The lunar horoscope is a kind of matrix that preserves the tendencies laid at the time of the lunar return, during the coming lunar month.
Select the date, time and place birth:
☿ Mercury in 10 home of the lunar horoscope
Man's thoughts and conversations relate to his professional sphere, career, and current goals, as a person understands them and in the manner in which they are described by a solar horoscope. There can be changes at work, in the position occupied, in connection with which it will be necessary to sign important papers. With a strong defeat of Mercury from signing it is better to refuse. A person can receive a proposal for promotion, on the performance of a special assignment, which gives him a special status. Whether he accepts this proposal or not, depends on other indicators of the 10th house. The person also thinks about his position in society, about social activities, as well as about politics, governance issues, nationwide problems, if Mercury has aspects in the 9th house or with superplanets. Negative aspects of Mercury are inclined to hasty actions, rash words, which can damage the career and position of the person.
☿ Mercury in the houses of the lunar horoscope
Comments: