Lunar horoscope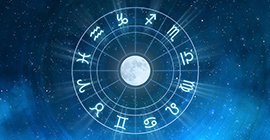 A lunar horoscope is a map compiled at the time when the transit moon returns to the position it occupied at the moment of the birth of the person (native). Lunar return is repeated approximately every 27 days and 8 hours - this is the sidereal cycle of the Moon. This horoscope is calculated using the coordinates of the place in which the person was or plans to be. In the case of moving and finding at this time in another locality, it is necessary to recalculate the lunar for new coordinates.
The lunar horoscope is a kind of matrix that preserves the tendencies laid at the time of the lunar return, during the coming lunar month.
Select the date, time and place birth:
3 house of the lunar v 10 home of the natal horoscope
On the one hand, a person seeks to move, travel and all kinds of contacts. This is how it becomes the theme of the month. On the other hand, the trips themselves and meetings with different people contribute to the elevation of the person, the advancement of him to the goal. Which - the MS of the lunar horoscope will indicate. Also, thanks to short trips, a person becomes noticeable in society, begins to stand out from the crowd, acquires a certain status. Correspondence, conversations, with the defeat of the third house - gossip, which somehow affect the reputation of a person. They generally seem extremely important to a person this month. It is possible to sign certain official papers, documents or contracts, as well as discuss these issues, consultations, negotiations. Often a person for a month is short with bosses, influential people.
3 house of the lunar in the homes of the natal horoscope
Comments: