Lunar horoscope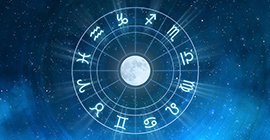 A lunar horoscope is a map compiled at the time when the transit moon returns to the position it occupied at the moment of the birth of the person (native). Lunar return is repeated approximately every 27 days and 8 hours - this is the sidereal cycle of the Moon. This horoscope is calculated using the coordinates of the place in which the person was or plans to be. In the case of moving and finding at this time in another locality, it is necessary to recalculate the lunar for new coordinates.
The lunar horoscope is a kind of matrix that preserves the tendencies laid at the time of the lunar return, during the coming lunar month.
Select the date, time and place birth:
9 house of the lunar v 7 home of the natal horoscope
Rethinking their attitude to partnerships and human relationships in general. The influence of various kinds of philosophical, religious concepts and cultural traditions on current relations. Search for cooperation prospects. Perhaps, travel and travel with the purpose of contacts with partners (including, with the spouse). Relations of various kinds with a person from afar, contracts with representatives of foreign companies and foreign organizations. With the defeat of the elements of the house - the process, the proceedings, the expression of disagreement. Activities abroad under the contract, especially teaching, literary, publishing or missionary, as well as advisory. Work in associations and enterprises with the above activities. With favorable indicators of the house - gaining a reputation abroad, popularizing people's ideas. Communication with people mainly takes place on an intellectual level, and also on the basis of a common worldview. When confirmed by other indicators - an indication of the trip, the departure of the spouse. If the elements of the house are damaged, the gap is due to the difference in life views and attitudes. When other prognosis methods are confirmed, the process of divorce begins. Perhaps marriage abroad, if there is an indication in the radix.
9 house of the lunar in the homes of the natal horoscope
Comments: