The solar horoscope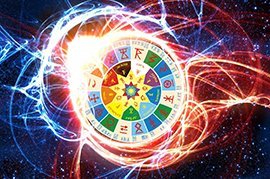 Solar's method allows to identify the potential of events that can occur to a person during his solar year. Similarly, if necessary, you can identify events that can not happen, and exclude them from further consideration. In fact, Solyar is a transit card fixed at the time of the Sun's return to its natal position, taking into account the coordinates of the locality where the person was (!) At that moment.
Select the date, time and place birth:
12 house of the solarium in 11 house of the natal horoscope
Friends are the cause of disappointment, loss, unpleasant situations. Often during this period, they become hidden enemies, able to strike undercover. With a favorable aspect of the elements of the house, their actions can be detected and neutralized. Quarrels with friends, associates, loss of sympathy and like-minded people. Perhaps the establishment of secret extramarital relations, adultery, immoral way of life, secret debauchery, promiscuous connections. Obstacles to the implementation of plans and hopes, strong grief because of this. The reasons for this are of an implicit, mysterious nature, they do not lend themselves to analysis. Confusion in the plans, illusions, vain torments and fears. A positive placement of the indicators at home gives secret help to friends, hidden patrons. Preparing for reform, a non-traditional way. Thinking of the further life is facilitated by solitude. Perhaps a vision of a person in a new light from the familiar surroundings.
12 house of the solarol in the homes of the natal horoscope
Comments: