Aromatherapy and home fragrances on september 2023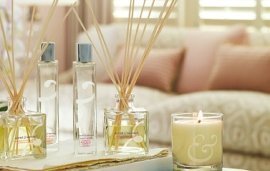 Aromatherapy on september 2023
Aromatherapy is a process of treatment using essential oils. Each essential oil has its own specific properties. There are aphrodisiac oils that increase sexual attraction and excitement (ylang-ylang, jasmine, sandalwood oil, rose oil), and pine, fir, lavender, chamomile, mint and lemon balm oils have a therapeutic and therapeutic effect on your body. For the treatment of diseases and conditions in aromatherapy, in addition to the smells of live flowers and burning dry plants, various essential oils are used, which can be bought at the pharmacy or in special stores. Usually the essential oil is inhaled directly from the vial, dissipating its smell around the room or being applied to the body. But it is best to prepare a lamp or snuff based on essential oils.
To make a flavoring lamp you need to pour essential oil along with warm water into the vessel and install it so that you can put a candle under it. During the treatment session, the candle lights up. If only one oil is used for treatment, then its quantity should not exceed 20 drops.
For the preparation of snuff, it is necessary to pour ordinary table salt into the cup, add essential oil to it and mix thoroughly, so that the salt absorbs all the oil. The smelling salt is poured into a vial or a plastic bag. The bottle is tightly sealed. The bag is sealed with a hot iron, then pierced in several places with a needle to get small holes. Such a bag is stored in a cloth bag and used as needed.
Each lunar day, like the sign of the Zodiac, is unique in energy, have their properties, and has an impact on the human body. Therefore, depending on the lunar day, the position of the moon in the sign of the Zodiac and the phase of the moon, unique recommendations for combining the rhythms of the moon with the energies of essential oils are presented. The effect of aromatic oils will be best if the aromatherapy is coordinated with the specified recommendations. Because all aromas and essential oils, correspond to a certain lunar day. Also from the description, you will learn about the effect of essential oils on the body as a whole, and on the proper selection of fragrances for the home. City Toronto.
Calendar of aromatherapy and fragrances for home s 1 by 7 september 2023 years

from 00:00

17 lunar day continues


Schisandra
Strengthens the energy and attractiveness of man. Protects a person from negative energies of envy and aggression.

from 21:03

The beginning of the 18 lunar day


Ylang Ylang
Aligns the energy shell. Helps in eliminating stasis, feelings of uncertainty, anxiety, astheno-depressive conditions. Displaces from life nervousness, anger and irritability. Provides assistance in dealing with close people. Helps to attract positive energy and love.

from 21:26

The beginning of the 19 lunar day


Leuzea
Restores the shape and brightness of the aura. Eliminates the defects of the energy field. Helps to quickly restore strength after illness or fatigue. Increases the productivity of sleep and relaxation. Activates physical and mental activity. Increases reaction speed, concentration of attention and mental productivity. Promotes an optimistic attitude, helping to get rid of negative thoughts.

from 03:27

The beginning of the waning gibbous 🌖 phase, Moon in the sign of ♈ Aries


On the waning Moon, the forces of Aries become weaker, so those who do not belong to the signs of Fire, it may seem that they do not have enough strength. Especially it concerns the signs of Water. Encourage yourself and your home with the aromas of basil, eucalyptus, verbena and nutmeg.

from 10:59

☽ Moon passes into the sign of ♉ Taurus, waning gibbous 🌖


On the waning Moon in Taurus, try to revive the smells of your home, bring love and joy and emancipation into your life and life. Helps you in this miraculous aroma of ylang-ylang oil. The name of this plant is translated as "flower of flowers". In Indonesia, the flowers of ylang-ylang cover the bed of the newlyweds for the excitement of passion. His aromatic smoke fumigates the dwelling to protect against quarrels and discord. The aroma of this oil is the fragrance of charm, the aroma of love passion. Smoke the house before a dream with the ylang-ylang aroma, and you will have an unforgettable night.

from 21:49

The beginning of the 20 lunar day


Melissa
It eliminates melancholy, sleep disorders, irritability. Helps to overcome negative emotions, such as envy, ill-will and jealousy. Melissa's fragrance is a powerful shield against any ill-effects. It cleans and strengthens the energy field and protects the person from negative influences. She is optimistic and attracts luck. Stimulates the intellectual qualities.

from 22:16

The beginning of the 21 lunar day


Myrrh
Mirra warms, eliminates the confusion of thoughts and confusion of feelings. Clears the aura, stimulates energy growth. The fragrance of Mirra sates with love, opens the heart for love, filling it with the pure energies of the Universe. Helps a person understand the actions of others, accept and forgive, teaches wisdom and prudence. Helps to get rid of egocentrism and dependence. Mirra helps to build a bridge between "heavenly" and "earthly" in man.

from 16:06

☽ Moon passes into the sign of ♊ Gemini, waning gibbous 🌖


On the waning moon in Gemini, the best choice is incense, lemon, mandarin. All coniferous smells also fit as well as possible. Therefore, even if you are not fond of aromatherapy and do not keep aromatic lights or incense at home, you can safely get out into the coniferous forest. Breathing in the coniferous smells, you will feel much better, healthier and more harmonious. And to smell the coniferous forest accompanied you and at home - bring a twig of pine or spruce with you.

from 22:48

The beginning of the 22 lunar day


Marjoram
This fragrance has the ability to quickly restore balance after intense stress, serious trouble, grief and loss. Elixir against fear. Eliminates anxiety, fatigue and insomnia. Marjoram eliminates the paralysis of the will. It saturates the energy field of the person with optimism, confidently goes forward and achieves the set goals calmly and quickly.

from 18:20

The beginning of the last quarter 🌗 phase, Moon in the sign of ♊ Gemini


On the waning moon in Gemini, the best choice is incense, lemon, mandarin. All coniferous smells also fit as well as possible. Therefore, even if you are not fond of aromatherapy and do not keep aromatic lights or incense at home, you can safely get out into the coniferous forest. Breathing in the coniferous smells, you will feel much better, healthier and more harmonious. And to smell the coniferous forest accompanied you and at home - bring a twig of pine or spruce with you.

from 23:26

The beginning of the 23 lunar day


Orchid
This fragrance perfectly heals spiritual wounds, pacifies anger, improves mood. The smell of Orchid redirects a person into a channel of positive actions and emotions. Helps in resolving disputes. Aroma of Orchids helps to make the right choice and make the right decision.

all current events (1)

1) The beginning of the last quarter 🌗 phase, Moon in the sign of ♊ Gemini (from 06.09 18:20)
---
Comments (2):