Calculation of Lilith - the Black Moon for the birthday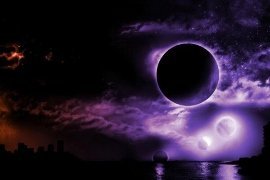 Lilit Moon is an astrological term that means an imaginary planet. This planet characterizes all those unseemly, not ethical and immoral actions that we have committed in previous life incarnations. The totality of these actions is reflected in the depths of our subconscious. The Black Moon Lilith has a destructive power that can cripple the human soul with temptations. Every 9 years, a person is tested on the Black Moon Lilith.
During inspections and tests a person must with honor survive difficult situations that can manifest themselves particularly harshly. If the "subject" does not survive, then his karma will be aggravated. The destructive influence of the Moon Lilith can be reduced if a person has a highly developed level of morality and spirituality. In the event that the subject begins to harbor anger and resentment on life, then difficult situations will be repeated in the future, without leaving him alone.
Select the date, time and place birth:
Lilith in the sign Libra
Scales symbolize harmony, balance, choice.
If the Black Moon in Libra strengthens the active pole of the sign, a person with all his strength seeks leadership in relations with partners, tries to control them, seize the initiative in their own hands, which is often inappropriate. Under the influence of the Black Moon, the selectivity peculiar to Libra becomes excessive. A person sees imperfection in everything, his demands for others are too high and often unfair. The choice, including partners, is carried out on the basis of only an external impression or belonging to the elite, the value system is based on a subjective aesthetic criterion, goals and aspirations are determined by considerations of prestige. The Black Moon distorts the notion of justice. A person knows how to attract people to his side, then to use them mercilessly.
If the Black Moon acts on the passive component of the sign, a person with difficulty makes a choice, constantly fluctuates from one solution to another. In relations with partners, he is dependent, dependent, easily obeys and agrees with everything he is told, seeks to shift responsibility to others or, at the very least, to share it with someone. Black Moon deprives a person of his own point of view, he completely relies on the opinion of others, his tastes, ideas about beauty and harmony are determined by the environment. A person becomes suggestible and manageable. The Black Moon often contributes to a marriage of convenience, a person strives to improve the financial position thanks to a partner or even exist at his expense.
---
Comments: