Lunar horoscope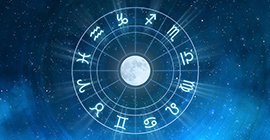 A lunar horoscope is a map compiled at the time when the transit moon returns to the position it occupied at the moment of the birth of the person (native). Lunar return is repeated approximately every 27 days and 8 hours - this is the sidereal cycle of the Moon. This horoscope is calculated using the coordinates of the place in which the person was or plans to be. In the case of moving and finding at this time in another locality, it is necessary to recalculate the lunar for new coordinates.
The lunar horoscope is a kind of matrix that preserves the tendencies laid at the time of the lunar return, during the coming lunar month.
Select the date, time and place birth:
10 house of the lunar v 6 home of the natal horoscope
Success in production matters, thanks to the reputation of employees, as well as due to their business qualities and style of performing their duties. In general, the month is favorable for people in a subordinate position, for employees and people engaged in services, medicine, dealing with painstaking everyday work. Career by waiting and consistent action. Someone's illness can make room. With the urgency of health issues can indicate a recovery, persistent holding of medical and recreational activities. If the elements of the house are damaged, the state of health can adversely affect the professional career or position in society, the realization of current goals. Disease can generally interfere with any activity, activity. The feeling of subordination, dependence, unclaimedness, second-rate. Fulfillment of their duties, a heavy burden of a subordinate. The oppressed state, liabilities, debts, circumstances, which prevent us from turning around.
10 house of the lunar in the homes of the natal horoscope
Comments: