Lunar horoscope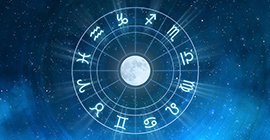 A lunar horoscope is a map compiled at the time when the transit moon returns to the position it occupied at the moment of the birth of the person (native). Lunar return is repeated approximately every 27 days and 8 hours - this is the sidereal cycle of the Moon. This horoscope is calculated using the coordinates of the place in which the person was or plans to be. In the case of moving and finding at this time in another locality, it is necessary to recalculate the lunar for new coordinates.
The lunar horoscope is a kind of matrix that preserves the tendencies laid at the time of the lunar return, during the coming lunar month.
Select the date, time and place birth:
10 house of the lunar v 8 home of the natal horoscope
Depending on the current situation and the level of spiritual development, a person gives the most diverse characteristics. In particular, the entry into a sexual relationship, which appears to be the current goal. Also receiving money from other people, inheritance, solving problems with tax, customs inspections, with fines, debts, loans and other financial claims. Concerns related to monetary obligations. Finally, the person can see the goal of the month in mastering secret knowledge, mystical practices, studying occult disciplines. Promotion in unconventional ways. Use magical practices to achieve power and influence. This provision often accompanies people whose profession or hobbies are accompanied by risk, getting into critical situations. At the same time, a passion for dangerous adventures, risky adventures and enterprises is realized. How deadly situations can be, the factors of the house and the entire lunar horoscope will show. Often points to the fundamental changes in career, type of activity, social status and reputation. If you defeat the indicators of the house - the collapse of a career, businesses, risky struggle to the last. Anyone's death can affect the state of affairs, the implementation of tasks. Perhaps the entry into the mafia structures.
10 house of the lunar in the homes of the natal horoscope
Comments: