Lunar horoscope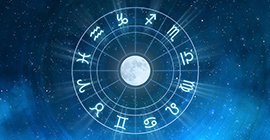 A lunar horoscope is a map compiled at the time when the transit moon returns to the position it occupied at the moment of the birth of the person (native). Lunar return is repeated approximately every 27 days and 8 hours - this is the sidereal cycle of the Moon. This horoscope is calculated using the coordinates of the place in which the person was or plans to be. In the case of moving and finding at this time in another locality, it is necessary to recalculate the lunar for new coordinates.
The lunar horoscope is a kind of matrix that preserves the tendencies laid at the time of the lunar return, during the coming lunar month.
Select the date, time and place birth:
11 house of the lunar v 5 home of the natal horoscope
Great plans for love relationships and in connection with them. Also in connection with participation in secular life, in sports competitions, in financial scams or gambling, with creativity, with an artistic career. Certain hopes are placed on children, if they exist, or on the birth of a child. Change the ideological platform of education, pedagogical practice. The attention of the person can be riveted to the environment of the child. The child's desire for independence. Friendly relations with children. Children can influence the change of the person's plans, if other indicators confirm this, and the elements of the house are affected. With favorable indicators of the house testifies to happiness in love, successful rivalry. Often, friendship turns into an intimate relationship or, conversely, a lover becomes a friend.
11 house of the lunar in the homes of the natal horoscope
Comments: