Lunar horoscope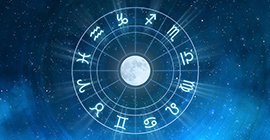 A lunar horoscope is a map compiled at the time when the transit moon returns to the position it occupied at the moment of the birth of the person (native). Lunar return is repeated approximately every 27 days and 8 hours - this is the sidereal cycle of the Moon. This horoscope is calculated using the coordinates of the place in which the person was or plans to be. In the case of moving and finding at this time in another locality, it is necessary to recalculate the lunar for new coordinates.
The lunar horoscope is a kind of matrix that preserves the tendencies laid at the time of the lunar return, during the coming lunar month.
Select the date, time and place birth:
11 house of the lunar v 8 home of the natal horoscope
With a favorable aspect of the elements, the house indicates the positive implementation of plans related to financial matters, testament, problems with inspection organizations, taxes, duties, debts, foreign capital and profit distribution. A person places great hopes on the money of a partner (or spouse), as well as on unearned and dishonestly received money (winnings, thefts, etc.). The desire to live at someone else's expense. Views on the inheritance, on the spiritual or occult heritage. Often this month a person attracts critical situations, unforeseen events, someone's death. With the defeat of the elements of the house, this position may indicate the collapse of a career, failures with finances, vain ambitions, the destruction of important life projects, and the death of a friend. There is also the danger of imprisonment in one way or another, depending on the context of the events. A person at the beginning of another round of spiritual development predisposes him to studying occultism, magic, astrology, and spiritual transformation.
11 house of the lunar in the homes of the natal horoscope
Comments: