Lunar horoscope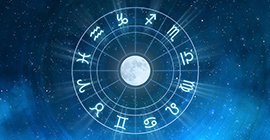 A lunar horoscope is a map compiled at the time when the transit moon returns to the position it occupied at the moment of the birth of the person (native). Lunar return is repeated approximately every 27 days and 8 hours - this is the sidereal cycle of the Moon. This horoscope is calculated using the coordinates of the place in which the person was or plans to be. In the case of moving and finding at this time in another locality, it is necessary to recalculate the lunar for new coordinates.
The lunar horoscope is a kind of matrix that preserves the tendencies laid at the time of the lunar return, during the coming lunar month.
Select the date, time and place birth:
4 house of the lunar v 5 home of the natal horoscope
Usually means a love affair with a distant relative or holding a love meeting in a person's house. Can mean addition in the family (the birth of a child) or taking a relative to the home for education or supervision. In some cases, it shows the end of the child's learning cycle, his success in creativity or rewarding his own efforts, recognition of merit. A month of gaining a certain reputation. A month is rich in entertainment, participation in social life. When confirmed by other indicators, it can indicate winnings, enviable acquisitions, honors for parents.
4 house of the lunar in the homes of the natal horoscope
Comments: