Lunar horoscope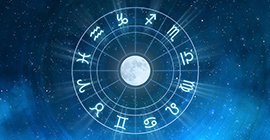 A lunar horoscope is a map compiled at the time when the transit moon returns to the position it occupied at the moment of the birth of the person (native). Lunar return is repeated approximately every 27 days and 8 hours - this is the sidereal cycle of the Moon. This horoscope is calculated using the coordinates of the place in which the person was or plans to be. In the case of moving and finding at this time in another locality, it is necessary to recalculate the lunar for new coordinates.
The lunar horoscope is a kind of matrix that preserves the tendencies laid at the time of the lunar return, during the coming lunar month.
Select the date, time and place birth:
4 house of the lunar v 6 home of the natal horoscope
Establishes a relationship of one kind or another between the place of residence of a person, his property and relations in the family with a place of employment, position at work and relations with employees and subordinates. The health of one of the parents or members of the family can be undermined, which is why a person takes on new responsibilities for housework, care, etc. The situation in the family brings anxiety and trouble. A lot of domestic duties, cases. With favorable indices of the home - recovery, liberation from the disease. At less positive - a home mode, treatment (basically, methods of national medicine).
4 house of the lunar in the homes of the natal horoscope
Comments: