Lunar horoscope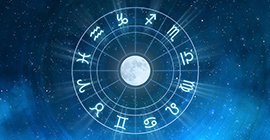 A lunar horoscope is a map compiled at the time when the transit moon returns to the position it occupied at the moment of the birth of the person (native). Lunar return is repeated approximately every 27 days and 8 hours - this is the sidereal cycle of the Moon. This horoscope is calculated using the coordinates of the place in which the person was or plans to be. In the case of moving and finding at this time in another locality, it is necessary to recalculate the lunar for new coordinates.
The lunar horoscope is a kind of matrix that preserves the tendencies laid at the time of the lunar return, during the coming lunar month.
Select the date, time and place birth:
5 house of the lunar v 10 home of the natal horoscope
The emergence of a long-awaited love affair, often perceived as a reward or conducive to progress towards a life goal or current tasks of the period. It can be a connection with the boss, his assistance to the person. A month is favorable for the nomination of a person due to his creativity, active role, and also participation in secular and social events. Especially favorable for artists, people associated with art, literature. Obviously, a person's reward for his creative efforts. Sometimes - getting awards, prizes, winnings, the acquisition of a certain status due to active work. An engagement can take place - with confirmation by other indicators. The period of children's success, their promotion, career growth.
5 house of the lunar in the homes of the natal horoscope
Comments: