Lunar horoscope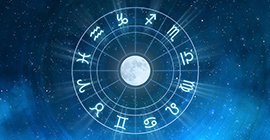 A lunar horoscope is a map compiled at the time when the transit moon returns to the position it occupied at the moment of the birth of the person (native). Lunar return is repeated approximately every 27 days and 8 hours - this is the sidereal cycle of the Moon. This horoscope is calculated using the coordinates of the place in which the person was or plans to be. In the case of moving and finding at this time in another locality, it is necessary to recalculate the lunar for new coordinates.
The lunar horoscope is a kind of matrix that preserves the tendencies laid at the time of the lunar return, during the coming lunar month.
Select the date, time and place birth:
5 house of the lunar v 12 home of the natal horoscope
Unpleasant events and experiences associated with a love affair. When the house is activated by planets, especially heavy ones, the actions leading to its rupture. Depression, severe conditions, apathy, isolation from real life. With a more favorable state of the 5th house - secret love or hidden entertainment, betrayal of a spouse or lover. It is necessary to hide your feelings and relationships. Lovers can push on unseemly acts, communication with criminal elements, keeping a closed way of life. It can also mean an unwanted or seriously passing pregnancy in women, complications and anxiety, an unaccustomed lifestyle because of this. The state of children's health can cause anxiety and discomfort.
5 house of the lunar in the homes of the natal horoscope
Comments: