Lunar horoscope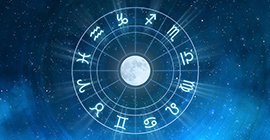 A lunar horoscope is a map compiled at the time when the transit moon returns to the position it occupied at the moment of the birth of the person (native). Lunar return is repeated approximately every 27 days and 8 hours - this is the sidereal cycle of the Moon. This horoscope is calculated using the coordinates of the place in which the person was or plans to be. In the case of moving and finding at this time in another locality, it is necessary to recalculate the lunar for new coordinates.
The lunar horoscope is a kind of matrix that preserves the tendencies laid at the time of the lunar return, during the coming lunar month.
Select the date, time and place birth:
♆ Neptune in 10 home of the lunar horoscope
It is in vain to expect an increase in the rank, rank and related improvement in the material situation and position in society. The intricate state of career and professional affairs, an unstable situation at work. Misconceptions about current goals, their prospects and reality, the possibility of incarnation. Often this position indicates that the person is finally confused in life. Exaggeration of their abilities and abilities. Hopes for help from patrons are not justified. It is also difficult to expect financial support. The year is unfavorable for a political and public career. You can not take a leadership post. Failure and scandals. Heavy frustration and resentment because of this. In general, many miscalculations and misunderstandings. Collisions and confusion with the authorities, official bodies, confusing business. This provision can also point to initiation, conversion, initiation, confirmation. The year is favorable for the beginning of the work of a psychic, a scientist, a physician, as well as for chemistry, seamanship, any kind of secret activity.
♆ Neptune in the houses of the lunar horoscope
Comments: