Lunar horoscope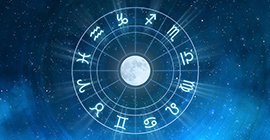 A lunar horoscope is a map compiled at the time when the transit moon returns to the position it occupied at the moment of the birth of the person (native). Lunar return is repeated approximately every 27 days and 8 hours - this is the sidereal cycle of the Moon. This horoscope is calculated using the coordinates of the place in which the person was or plans to be. In the case of moving and finding at this time in another locality, it is necessary to recalculate the lunar for new coordinates.
The lunar horoscope is a kind of matrix that preserves the tendencies laid at the time of the lunar return, during the coming lunar month.
Select the date, time and place birth:
♆ Neptune in 6 home of the lunar horoscope
Disappointment or illusion about work. Hopes for promotion do not come true or in a new place will not be as good as a person expected. Intricate relationships with subordinates and colleagues, in general an unclear situation in production. An ambiguous official position. Inspirational work, but misconceptions about the need to "plow so much." Vain hopes of an amendment of health, a certain method of treatment, the results of a surgical operation or procedures. In general, you need to be careful about medical prescriptions and taking medications. There may be a wrong diagnosis or wrong treatment. Man himself is mistaken about his state of health - in one direction or another. Favorable treatment on the waters, chemotherapy, water massage. It is necessary to pay attention to the conformity of the diet. Indicates the mental causes of diseases, nervous depression. The negative aspect of Neptune makes health concerns in vain. Labor requires inspiration, and work proceeds through strength. Unpleasant situations with employees - intrigues, intrigues, misunderstandings, wrecking, dishonesty.
♆ Neptune in the houses of the lunar horoscope
Comments: