Lunar horoscope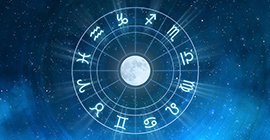 A lunar horoscope is a map compiled at the time when the transit moon returns to the position it occupied at the moment of the birth of the person (native). Lunar return is repeated approximately every 27 days and 8 hours - this is the sidereal cycle of the Moon. This horoscope is calculated using the coordinates of the place in which the person was or plans to be. In the case of moving and finding at this time in another locality, it is necessary to recalculate the lunar for new coordinates.
The lunar horoscope is a kind of matrix that preserves the tendencies laid at the time of the lunar return, during the coming lunar month.
Select the date, time and place birth:
♀ Venus in 3 home of the lunar horoscope
Often, depending on the aspects characterizes the style of communication of a person, his luck in contacts. So, positively aspected, indicates a pleasant company, interesting conversations, a person satisfying the atmosphere around. Negatively aspected, indicates unpleasant contacts, which a person, however, will try to optimize for themselves. Can indicate a sufficiently large circle of communication, compared with the past years. Thoughts and talk about the beautiful. Can point to love correspondence, love at a distance or numerous love dates, connections in travel. Intimate communication with a friend (friend). Enhancing sympathy for brothers and sisters. Perhaps, a love relationship with a younger person. A year that is successful for writers, journalists, businessmen, intermediaries, as well as for training, intellectual activity, signing of important papers. The year is also favorable for the brothers and sisters of man. Negative aspects of Venus tend to indiscriminate, sometimes vicious connections, communication on the principle of "the more the better", the fickle sympathy for their environment, to a false assessment of it.
♀ Venus in the houses of the lunar horoscope
Comments: