Lunar horoscope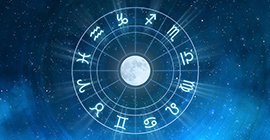 A lunar horoscope is a map compiled at the time when the transit moon returns to the position it occupied at the moment of the birth of the person (native). Lunar return is repeated approximately every 27 days and 8 hours - this is the sidereal cycle of the Moon. This horoscope is calculated using the coordinates of the place in which the person was or plans to be. In the case of moving and finding at this time in another locality, it is necessary to recalculate the lunar for new coordinates.
The lunar horoscope is a kind of matrix that preserves the tendencies laid at the time of the lunar return, during the coming lunar month.
Select the date, time and place birth:
♀ Venus in 9 home of the lunar horoscope
The year is favorable for advanced training, internships (including abroad), for teaching. Year of expansion of perspectives, research and development of teaching methods, impact on minds. It is favorable for any intellectual activity, promotes achievements in this sphere. Good for literary work and publishing their works, for publishing, religious and philosophical reflection and propaganda. Expansion of public and business relations, in particular with foreign citizens, organizations and enterprises. Often points to the idealization of love relationships and the image of a loved one. Sometimes - an affair with a man from afar, from another nationality. Love affair gives an opportunity to expand the perspectives and horizons of a person. Communication with loved ones on an intellectual level. The desire for travel and change of places. Can indicate and travel lover (mistress). Negative aspects of Venus do not give a favorable development of possible love relationships. Vain hopes for their prospects. Unsuccessful or failed journeys, failures in intellectual activity.
♀ Venus in the houses of the lunar horoscope
Comments: