Lunar horoscope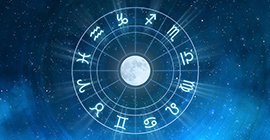 A lunar horoscope is a map compiled at the time when the transit moon returns to the position it occupied at the moment of the birth of the person (native). Lunar return is repeated approximately every 27 days and 8 hours - this is the sidereal cycle of the Moon. This horoscope is calculated using the coordinates of the place in which the person was or plans to be. In the case of moving and finding at this time in another locality, it is necessary to recalculate the lunar for new coordinates.
The lunar horoscope is a kind of matrix that preserves the tendencies laid at the time of the lunar return, during the coming lunar month.
Select the date, time and place birth:
♀ Venus in 1 home of the lunar horoscope
A year is important in terms of the manifestation of personal activity of a person, the realization of his initiatives. If Venus is not badly hit, he manages to successfully implement his projects. In general, a person is in an upbeat state, often smiling, having a lot of fun, kurazhitsya. A state of love, an event in an intimate life. Increases the physical attractiveness of a person, interest in his image, make-up, jewelry, beautiful things, jewelry. Promotes success through personal charisma of man, optimism and sociability. An important event can concern the appearance of a person, especially if Venus has an aspect with the ruler of the ASC in the radix or is itself it. Also, Venus favors the affairs of the house of the solarium, the steward of which it is. And the position of its dispositor in the solarium will indicate the reason for such an elevated state of a person. Person's personal contacts this year are of great importance for the next years. Negative aspects of Venus lead to trouble in love, unnecessary connections, a person's propensity for betrayal.
♀ Venus in the houses of the lunar horoscope
Comments: