The solar horoscope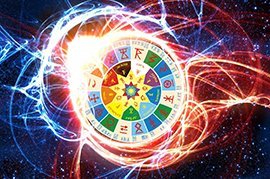 Solar's method allows to identify the potential of events that can occur to a person during his solar year. Similarly, if necessary, you can identify events that can not happen, and exclude them from further consideration. In fact, Solyar is a transit card fixed at the time of the Sun's return to its natal position, taking into account the coordinates of the locality where the person was (!) At that moment.
Select the date, time and place birth:
1 house of the solarium in 10 house of the natal horoscope
The year is favorable for professional advancement and exaltation. A new, higher position may be proposed. The affairs of leadership play a big role in life during this period. A person can rely on the help of a parent of the opposite sex. He also gets a certain position in society, often - a special status even without a job. In a sense, this is the year of progress toward a life goal, in the sense in which a person understands it for himself. He has a chance to realize some of his intentions. It should be remembered that he will cause his both luck and failure. Often the year is marked by major events in his personal life, especially for women. It can become a year of marriage, as well as divorce or change of environment, if the MC of the solar horoscope becomes in the 7th house of the radix.
1 house of the solarol in the homes of the natal horoscope
Comments: