The solar horoscope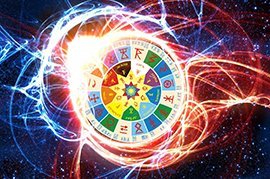 Solar's method allows to identify the potential of events that can occur to a person during his solar year. Similarly, if necessary, you can identify events that can not happen, and exclude them from further consideration. In fact, Solyar is a transit card fixed at the time of the Sun's return to its natal position, taking into account the coordinates of the locality where the person was (!) At that moment.
Select the date, time and place birth:
1 house of the solarium in 4 house of the natal horoscope
The most important event of the year concerns the family of a person, his parents or the question of a person's place of residence. This is one of the indications of the need to abandon any trips, to stay at home. Trips can bring trouble or even just emotional feelings. Perhaps the acquisition of real estate, other large property, establishment of an economy, a pronounced desire to start a family. Circumstances will develop in such a way that a person will be forced to lead a solitary way of life, will feel detached from the affairs of society. Often - change of place of residence, separation from the family. In the presence of other unfavorable indications, the solar car is an event dangerous to life, connected with factors of the elements, earth, mountains, heavy industry enterprises.
1 house of the solarol in the homes of the natal horoscope
Comments: