The solar horoscope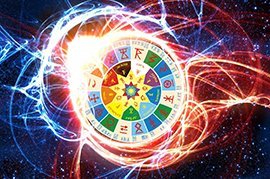 Solar's method allows to identify the potential of events that can occur to a person during his solar year. Similarly, if necessary, you can identify events that can not happen, and exclude them from further consideration. In fact, Solyar is a transit card fixed at the time of the Sun's return to its natal position, taking into account the coordinates of the locality where the person was (!) At that moment.
Select the date, time and place birth:
4 house of the solarium in 11 house of the natal horoscope
It is possible to stay at a friend's house or influence friends on household and property affairs of a person. May mean the end of any friendship and deepening of sympathy towards another person or group of persons. A person builds certain plans and harbors hopes for real estate. Implementation is a matter of other indicators of the 4th and 11th houses. Parents play a big role in the implementation of the plan or will oppose (with a negative aspect). Can mean and the implementation of just something conceived, a dream. There may be a change of residence for ideological reasons, life in the commune, the community, and the use of their homes for the needs of such organizations and groups.
4 house of the solarol in the homes of the natal horoscope
Comments: