The solar horoscope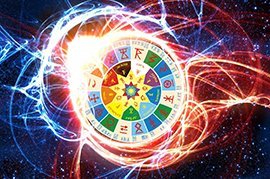 Solar's method allows to identify the potential of events that can occur to a person during his solar year. Similarly, if necessary, you can identify events that can not happen, and exclude them from further consideration. In fact, Solyar is a transit card fixed at the time of the Sun's return to its natal position, taking into account the coordinates of the locality where the person was (!) At that moment.
Select the date, time and place birth:
4 house of the solarium in 9 house of the natal horoscope
Change of residence, travel, departure abroad of parents or own family of a person, its individual members. This provision has to in-depth study of issues of religion, philosophy, culture, politics, economics, jurisprudence. It means the completion of a certain cycle in this study, finding your own worldview position. The end of literary work, teaching or propaganda, as well as philanthropic activities. The prospect of a person, the expansion of its horizons this year is connected with family relations and traditions, property status and property issues, with his native places.
4 house of the solarol in the homes of the natal horoscope
Comments: