The solar horoscope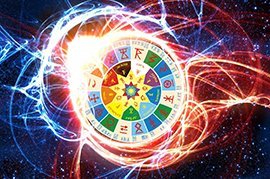 Solar's method allows to identify the potential of events that can occur to a person during his solar year. Similarly, if necessary, you can identify events that can not happen, and exclude them from further consideration. In fact, Solyar is a transit card fixed at the time of the Sun's return to its natal position, taking into account the coordinates of the locality where the person was (!) At that moment.
Select the date, time and place birth:
7 house of the solarium in 6 house of the natal horoscope
Disease or danger to the spouse, other partners of the person. Getting them into a subordinate, dependent position, getting into debts, obligations. Litigation with subordinates, employees, service personnel or with other persons on the basis of production dislocations. With negative indicators of the home, the possibility of participation in public activities or the popularity of a person decreases due to illness, accident, trouble. Increased workload in production, work part-time. The professional affairs of the spouse can provide the person with additional opportunities. Sometimes it can indicate the addition of offspring in pets.
7 house of the solarol in the homes of the natal horoscope
Comments: