The solar horoscope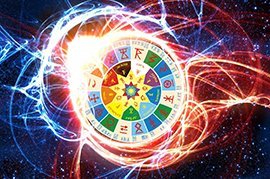 Solar's method allows to identify the potential of events that can occur to a person during his solar year. Similarly, if necessary, you can identify events that can not happen, and exclude them from further consideration. In fact, Solyar is a transit card fixed at the time of the Sun's return to its natal position, taking into account the coordinates of the locality where the person was (!) At that moment.
Select the date, time and place birth:
7 house of the solarium in 8 house of the natal horoscope
Most often indicates the entry into the first or very important for a person's sexual relationship. A mystical connection, very deep and / or heavy, with a person deepened in occult practices and knowledge. Can point to the spell, spell, sorcery. In a family man's card, it can mean a change in the marriage (divorce, division of property, death of the spouse). Spouse, partners can take many risks for the sake of the person, his progress. Litigation, processes for money, division of property, inheritance, taxes, other payments, risky financial transactions. The success of the end of the process for a person can be judged by the aspect of the elements of the house. Conclusion of contracts and cooperation agreements related to the distribution and placement of capital. Signing the relevant documents. The problems of change of fate, questions of life and death, as well as mysterious influences, relations with magicians, psychics, etc. are very actual.
7 house of the solarol in the homes of the natal horoscope
Comments: