The solar horoscope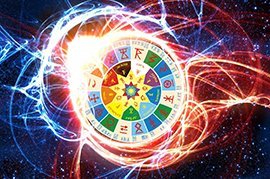 Solar's method allows to identify the potential of events that can occur to a person during his solar year. Similarly, if necessary, you can identify events that can not happen, and exclude them from further consideration. In fact, Solyar is a transit card fixed at the time of the Sun's return to its natal position, taking into account the coordinates of the locality where the person was (!) At that moment.
Select the date, time and place birth:
♃ Jupiter with 2 home of a solar horoscope
Activation of the material side of human life. Often increase in earnings, income from the area indicated by the natal house into which Jupiter hit. Sometimes it indicates the year of the beginning of independent earnings and the free disposal of their money from young people who begin their working life. The economic activity of a person, the concern for providing himself with monetary resources, is expanding. Also points to major purchases, acquisitions, spending on legal services, charity, publishing their work. The negative aspect of Jupiter points to numerous concerns in these areas, difficulties in achieving the desired level of security, in the implementation of financial projects. Gives unforeseen expenses, sharp exhaustion of capitals. A person is not satisfied with his financial situation.
♃ Jupiter in the houses of the solar horoscope
Comments: