The solar horoscope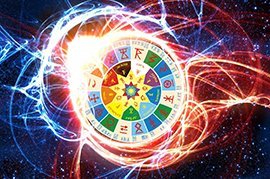 Solar's method allows to identify the potential of events that can occur to a person during his solar year. Similarly, if necessary, you can identify events that can not happen, and exclude them from further consideration. In fact, Solyar is a transit card fixed at the time of the Sun's return to its natal position, taking into account the coordinates of the locality where the person was (!) At that moment.
Select the date, time and place birth:
♃ Jupiter in 6 home of a solar horoscope
It is possible to combine posts and part-time, expand the front of work. Constant communication with subordinates and colleagues. Good luck in your professional work. Ease in the performance of their duties, providing pleasant services to anyone. The year is favorable for trade, accounting and administrative activities, for medical practice, for sanatorium-and-spa treatment, and recreational activities. Sometimes (in the last third of the house) indicates the appearance of pets. Affected by negative aspects, Jupiter inclines to excessive consumption of food, excessive care for one's health, suspiciousness, liver diseases, and deterioration of health due to abuse of pleasure. Taking on big responsibilities and obligations. Sometimes - big debts and related addiction. The aggravation of the subordinate position. A lot of work, routine work.
♃ Jupiter in the houses of the solar horoscope
Comments: