The solar horoscope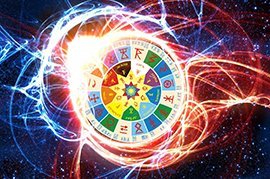 Solar's method allows to identify the potential of events that can occur to a person during his solar year. Similarly, if necessary, you can identify events that can not happen, and exclude them from further consideration. In fact, Solyar is a transit card fixed at the time of the Sun's return to its natal position, taking into account the coordinates of the locality where the person was (!) At that moment.
Select the date, time and place birth:
♀ Venus in 6 home of a solar horoscope
Usually indicates an improvement in official position, a slight promotion. Service novels are possible. Relations with employees and subordinates are harmonized. Sometimes indicates a love relationship with a person occupying a lower or subordinate position. The state of health, working capacity, nutrition and hygiene conditions improve somewhat. Sometimes in the last third of the house indicates the establishment of a pet. Participation in recreational and recreational activities. Negatively aspected, Venus talks about undesirable connections with subordinates and employees, complicates service relations. Health can suffer a little, especially kidneys and reproductive organs. Unhealthy connections that affect your health.
♀ Venus in the houses of the solar horoscope
Comments: