Lunar horoscope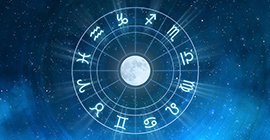 A lunar horoscope is a map compiled at the time when the transit moon returns to the position it occupied at the moment of the birth of the person (native). Lunar return is repeated approximately every 27 days and 8 hours - this is the sidereal cycle of the Moon. This horoscope is calculated using the coordinates of the place in which the person was or plans to be. In the case of moving and finding at this time in another locality, it is necessary to recalculate the lunar for new coordinates.
The lunar horoscope is a kind of matrix that preserves the tendencies laid at the time of the lunar return, during the coming lunar month.
Select the date, time and place birth:
1 house of the lunar v 2 home of the natal horoscope
It marks the month of acquiring a certain foundation in life, certainty and stability (if there are no damaging factors). Often this month a person finds himself in new external circumstances for himself or creates situations that will last over him for many months. The person receives some lessons from the material world, becomes a great pragmatist. He is occupied with problems of earnings, gaining financial independence, as well as the question of how to spend, dispose of what has been earned. He gets a taste for money. For young people, this is the month when the first own money or the money that they use for money appear. One way or another, the person has to solve the material problems first of all this month.
1 house of the lunar in the homes of the natal horoscope
Comments: