Lunar horoscope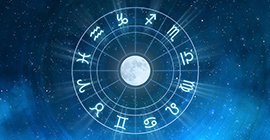 A lunar horoscope is a map compiled at the time when the transit moon returns to the position it occupied at the moment of the birth of the person (native). Lunar return is repeated approximately every 27 days and 8 hours - this is the sidereal cycle of the Moon. This horoscope is calculated using the coordinates of the place in which the person was or plans to be. In the case of moving and finding at this time in another locality, it is necessary to recalculate the lunar for new coordinates.
The lunar horoscope is a kind of matrix that preserves the tendencies laid at the time of the lunar return, during the coming lunar month.
Select the date, time and place birth:
1 house of the lunar v 5 home of the natal horoscope
A month of inspiration and personal creativity, growth and enthusiasm. In this month a person gives out the result of his efforts to the mountain. In many cases this is the month of birth of the child. In one way or another, problems related to children become more relevant. People of creative professions - the period of the beginning or apotheosis of a career. Change the attitude of a person in relation to intimate relationships. Loving relationships play an important role this month. In many cases, increased passion, sexual expansiveness. This is the month of celebration, pleasure, secular life, gaining a reputation and position. With favorable indicators of the house, there may be gains, success in the exchange game, frauds, speculation. Adverse indicators of the house indicate a possible loss.
1 house of the lunar in the homes of the natal horoscope
Comments: