Lunar horoscope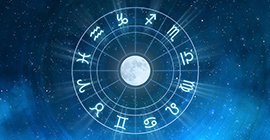 A lunar horoscope is a map compiled at the time when the transit moon returns to the position it occupied at the moment of the birth of the person (native). Lunar return is repeated approximately every 27 days and 8 hours - this is the sidereal cycle of the Moon. This horoscope is calculated using the coordinates of the place in which the person was or plans to be. In the case of moving and finding at this time in another locality, it is necessary to recalculate the lunar for new coordinates.
The lunar horoscope is a kind of matrix that preserves the tendencies laid at the time of the lunar return, during the coming lunar month.
Select the date, time and place birth:
1 house of the lunar v 3 home of the natal horoscope
This position marks, as a rule, a change in the circle of communication or a close environment. Relevant are trips, establishing contacts with various people, negotiations. It is possible to sign important contractual, official documents. This is also the month of the beginning or continuation of training, which is very important for a person. He writes a lot, is engaged independently, intellectual activity is renewed after a break and comes out on top. This is scientific activity, writing articles and other materials. Examinations and other types of examination of knowledge, obtaining relevant diplomas, certificates. A person becomes noticeable to others, has an impact on loved ones.
1 house of the lunar in the homes of the natal horoscope
Comments: