Lunar horoscope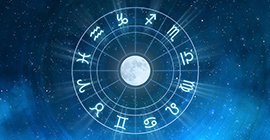 A lunar horoscope is a map compiled at the time when the transit moon returns to the position it occupied at the moment of the birth of the person (native). Lunar return is repeated approximately every 27 days and 8 hours - this is the sidereal cycle of the Moon. This horoscope is calculated using the coordinates of the place in which the person was or plans to be. In the case of moving and finding at this time in another locality, it is necessary to recalculate the lunar for new coordinates.
The lunar horoscope is a kind of matrix that preserves the tendencies laid at the time of the lunar return, during the coming lunar month.
Select the date, time and place birth:
6 house of the lunar v 4 home of the natal horoscope
Most often indicates intensified work at home, work at home or at family enterprises. Also, the fact that a person finds a position dependent on parents or other relatives becomes bound by the conventions and traditions of the clan, the social environment, the social stratum. Family members can take part, or at least show interest in the work of a person, his official position. Month can also stand out as a disease of parents, members of their own family, as well as damage to property, real estate rights, its land and enterprises. Perhaps participation in agricultural work, employment in mining, processing industry.
6 house of the lunar in the homes of the natal horoscope
Comments: