Lunar horoscope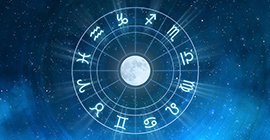 A lunar horoscope is a map compiled at the time when the transit moon returns to the position it occupied at the moment of the birth of the person (native). Lunar return is repeated approximately every 27 days and 8 hours - this is the sidereal cycle of the Moon. This horoscope is calculated using the coordinates of the place in which the person was or plans to be. In the case of moving and finding at this time in another locality, it is necessary to recalculate the lunar for new coordinates.
The lunar horoscope is a kind of matrix that preserves the tendencies laid at the time of the lunar return, during the coming lunar month.
Select the date, time and place birth:
6 house of the lunar v 7 home of the natal horoscope
Work in public - in the service sector, advisory activities. Official duties assume a deepening in the problems of another person, human relationships. Sometimes - unpaid, unpaid work for the benefit of society. Often employment on a contract basis, temporary, for hire. Work, strengthened activity gives a person the opportunity to stand out, to distinguish himself, to become more visible. Perhaps some elevation of a person in connection with his activities or job duties. Human health depends on the actions of the spouse and business partners, another kind of companions and comrades. The health of this group of people can also be weakened, and this can affect the official position of a person. This month it is better not to conclude treaties, agreements, not to start legal proceedings due to the possibility of making annoying mistakes, miscalculations. A person can feel his dependent position from his spouse, business partners. Some restrictions on reaching a wider audience. Popularity can suffer.
6 house of the lunar in the homes of the natal horoscope
Comments: