Lunar horoscope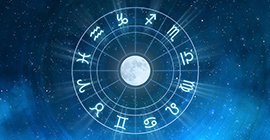 A lunar horoscope is a map compiled at the time when the transit moon returns to the position it occupied at the moment of the birth of the person (native). Lunar return is repeated approximately every 27 days and 8 hours - this is the sidereal cycle of the Moon. This horoscope is calculated using the coordinates of the place in which the person was or plans to be. In the case of moving and finding at this time in another locality, it is necessary to recalculate the lunar for new coordinates.
The lunar horoscope is a kind of matrix that preserves the tendencies laid at the time of the lunar return, during the coming lunar month.
Select the date, time and place birth:
6 house of the lunar v 9 home of the natal horoscope
If the house is active, it most often means working abroad or in another city. If the house is not expressed, it can mean a comprehension of one's position in the service, the style of work, the appearance in it of world outlook or spiritual motives. Philosophical, theological, literary works. Work in communication for foreign citizens, entrepreneurs and organizations. Can point to study abroad, professional development. Expansion of its own enterprise, access to foreign partners and customers, the emergence of certain perspectives. The development of philosophical and spiritual ideas is accompanied by doubts, long reflections, anxiety, assuming certain obligations, vows, schema. Travel, departures are not favorable for a person, cause anxiety, can undermine a person's health.
6 house of the lunar in the homes of the natal horoscope
Comments: