Lunar horoscope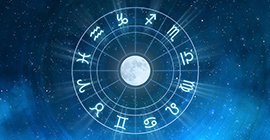 A lunar horoscope is a map compiled at the time when the transit moon returns to the position it occupied at the moment of the birth of the person (native). Lunar return is repeated approximately every 27 days and 8 hours - this is the sidereal cycle of the Moon. This horoscope is calculated using the coordinates of the place in which the person was or plans to be. In the case of moving and finding at this time in another locality, it is necessary to recalculate the lunar for new coordinates.
The lunar horoscope is a kind of matrix that preserves the tendencies laid at the time of the lunar return, during the coming lunar month.
Select the date, time and place birth:
8 house of the lunar v 12 home of the natal horoscope
Interruption of sexual intercourse, often for reasons unclear to a person. Secret communication. Hitting in critical situations because of a sexual partner, in particular, arrest and detention, other types of imprisonment. Concerns about the partner, secret fears, doubts, disappointments. The need for a settlement of the financial situation, confusing matters. With favorable indicators can indicate the end of the black band in life, the end of trouble. Exit to a new level. Deterioration of physical condition, hidden, difficult to diagnose diseases. Relationship with occult issues, revenge, betrayal, involvement in mystical processes. Can indicate the death of a secret enemy or trouble for him.
8 house of the lunar in the homes of the natal horoscope
Comments: