Lunar horoscope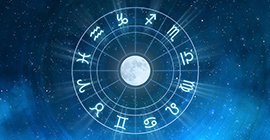 A lunar horoscope is a map compiled at the time when the transit moon returns to the position it occupied at the moment of the birth of the person (native). Lunar return is repeated approximately every 27 days and 8 hours - this is the sidereal cycle of the Moon. This horoscope is calculated using the coordinates of the place in which the person was or plans to be. In the case of moving and finding at this time in another locality, it is necessary to recalculate the lunar for new coordinates.
The lunar horoscope is a kind of matrix that preserves the tendencies laid at the time of the lunar return, during the coming lunar month.
Select the date, time and place birth:
8 house of the lunar v 2 home of the natal horoscope
A month is favorable for earnings with the support of allies, partners, spouses. Receiving from them large sums. If other indicators are confirmed, it is possible to receive an inheritance or funds as a result of winning the trial. Often unjust receiving of money, by deception, forgery, etc. Accumulation of magical energies, vampirism, dangerous practices. With unfavorable factors at home - the loss of one, often the main source of income. The collapse of the enterprise, the destruction of a solid material base, budget overruns. The danger of robberies. In case of severe injury, there is a risk of accident and injury.
8 house of the lunar in the homes of the natal horoscope
Comments: