Lunar horoscope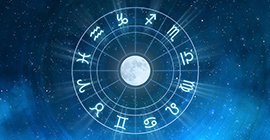 A lunar horoscope is a map compiled at the time when the transit moon returns to the position it occupied at the moment of the birth of the person (native). Lunar return is repeated approximately every 27 days and 8 hours - this is the sidereal cycle of the Moon. This horoscope is calculated using the coordinates of the place in which the person was or plans to be. In the case of moving and finding at this time in another locality, it is necessary to recalculate the lunar for new coordinates.
The lunar horoscope is a kind of matrix that preserves the tendencies laid at the time of the lunar return, during the coming lunar month.
Select the date, time and place birth:
8 house of the lunar v 7 home of the natal horoscope
Troubles and critical situations in connection with the placement of capital, property and financial disputes, misunderstanding, litigation. These or other changes in relations with partners: business or spouse. With the confirmation of other methods, the forecast can sometimes mean a divorce or a new marriage this month - the renewal of marital relations. The same applies to business partners. Parting, rather forced. Extreme situations. Sexual relations with partners become actual: the intimate side of marriage or the introduction into intimate relations with the partner on business, the employee becomes more active. At extremely difficult rates at home - the death of one of the partners of man. Death can touch the spouse, or danger can come from him. It can mean the beginning of occult practice, advisory activity with the use of mystical forces and its supernormal powers, if this is indicated in the radix. Danger or death lies in wait for the enemies of man.
8 house of the lunar in the homes of the natal horoscope
Comments: