Lunar horoscope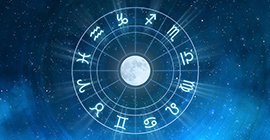 A lunar horoscope is a map compiled at the time when the transit moon returns to the position it occupied at the moment of the birth of the person (native). Lunar return is repeated approximately every 27 days and 8 hours - this is the sidereal cycle of the Moon. This horoscope is calculated using the coordinates of the place in which the person was or plans to be. In the case of moving and finding at this time in another locality, it is necessary to recalculate the lunar for new coordinates.
The lunar horoscope is a kind of matrix that preserves the tendencies laid at the time of the lunar return, during the coming lunar month.
Select the date, time and place birth:
♂ Mars in 6 home of the lunar horoscope
Activity related to professional activities. Perhaps, persistent search for work or change of place of work on a personal initiative. Unstable position at work, changeable relations in employees and subordinates, more tending to conflicts. Disagreement with official duties, unwillingness to work at all or in this place, dissatisfaction with his official position and actions aimed at correcting this. In general, stiffness in action, lack of freedom, a state of dependence. Unstable health, often manifested dangerous symptoms of disease. Colds, inflammatory processes. The negative aspects of Mars unequivocally incline to conflicts and riots at work, serious illnesses, the severance of relations with employees. This year it is better not to go to surgery, although the therapy will not be effective. Harm from doctors and workers in the service sector is possible. Also from pets.
♂ Mars in the houses of the lunar horoscope
Comments: