Lunar horoscope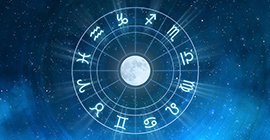 A lunar horoscope is a map compiled at the time when the transit moon returns to the position it occupied at the moment of the birth of the person (native). Lunar return is repeated approximately every 27 days and 8 hours - this is the sidereal cycle of the Moon. This horoscope is calculated using the coordinates of the place in which the person was or plans to be. In the case of moving and finding at this time in another locality, it is necessary to recalculate the lunar for new coordinates.
The lunar horoscope is a kind of matrix that preserves the tendencies laid at the time of the lunar return, during the coming lunar month.
Select the date, time and place birth:
♂ Mars in 3 home of the lunar horoscope
Quarrels with friends until the full break with the usual circle of communication. In general, a person is very impulsive in communication, clarification of relationships, often speaks heatedly, does not hesitate to argue. But he also actively acquires new acquaintances and connections, new friends. Increased intellectual activity. May, along with other indicators of the 3rd house, indicate the beginning of a new course of study. Active correspondence, literary work. Mars also activates the sphere of life described by the natal house into which it finds itself. Misunderstandings with brothers and sisters, to the complete neglect and severance of relations. With an unfavorable aspect with the Sun, they are at risk of an accident. In negative aspects, it gives a lot of rash and willful deeds. Bad news. This year it is better to refrain from trips, travel, especially by car and other modes of transport because of the possible danger, or at least, you need to be very careful. Important papers, documents, personal transport can suffer from fire.
♂ Mars in the houses of the lunar horoscope
Comments: