Lunar horoscope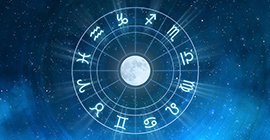 A lunar horoscope is a map compiled at the time when the transit moon returns to the position it occupied at the moment of the birth of the person (native). Lunar return is repeated approximately every 27 days and 8 hours - this is the sidereal cycle of the Moon. This horoscope is calculated using the coordinates of the place in which the person was or plans to be. In the case of moving and finding at this time in another locality, it is necessary to recalculate the lunar for new coordinates.
The lunar horoscope is a kind of matrix that preserves the tendencies laid at the time of the lunar return, during the coming lunar month.
Select the date, time and place birth:
♂ Mars in 8 home of the lunar horoscope
Activation of sexual life, the emergence of new intimate relationships. The location of solar Mars in a particular radix house often shows with whom. But conflicts and discontent with their partners. Aspects with Venus, Jupiter or the Sun increase a person's sex appeal. Dependence on the earnings of their partners. Using the money of other people, often - life at another's expense. Increase in costs. Initiative in monetary transactions, distribution of profits, investment, resolution of issues with financial verification organizations (customs, tax inspections, etc.). When confirmed by other indicators - obtaining an inheritance, but with difficulty, litigation. If you defeat negative aspects - the danger of an accident, a person attracts crisis, mortal situations. For a woman, there is the danger of rape. It is better not to deal with financial matters this year, do not deal with large sums, especially foreign money, not take (and not give) loans, on credit. If Mars is also in the 8th or 6th house of the radix - a surgical operation. In the 4th - illness or death in the family.
♂ Mars in the houses of the lunar horoscope
Comments: