Lunar horoscope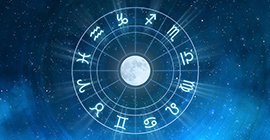 A lunar horoscope is a map compiled at the time when the transit moon returns to the position it occupied at the moment of the birth of the person (native). Lunar return is repeated approximately every 27 days and 8 hours - this is the sidereal cycle of the Moon. This horoscope is calculated using the coordinates of the place in which the person was or plans to be. In the case of moving and finding at this time in another locality, it is necessary to recalculate the lunar for new coordinates.
The lunar horoscope is a kind of matrix that preserves the tendencies laid at the time of the lunar return, during the coming lunar month.
Select the date, time and place birth:
♄ Saturn in 12 home of the lunar horoscope
Heavy, prolonged trials and difficulties associated with the problems of the natal house, in which Saturn is projected. Numerous worries and responsibilities. Internal loneliness, incomprehension. Activation, perseverance of secret enemies. Strengthen their positions. Possible blackmail, harassment, harassment. With a positive aspect, victory over them. Significant disorder of health, tortured ailments, not amenable to cure. But also aspiration, a great will to recover, increased attention to methods of treatment. Diseases received in this year give serious consequences. Increased conflict, discontent with everyone around and with oneself. In the case of the damaging aspect with the Sun - serious difficulties, losses. Perhaps imprisonment or forcible confinement in some place. In general, clouds of fatality and despair accumulate over a man. The projection of Saturn in the natal house will indicate the area of ​​life in which one should beware of particular troubles.
♄ Saturn in the houses of the lunar horoscope
Comments: