Lunar horoscope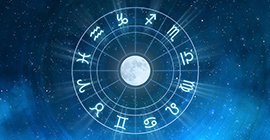 A lunar horoscope is a map compiled at the time when the transit moon returns to the position it occupied at the moment of the birth of the person (native). Lunar return is repeated approximately every 27 days and 8 hours - this is the sidereal cycle of the Moon. This horoscope is calculated using the coordinates of the place in which the person was or plans to be. In the case of moving and finding at this time in another locality, it is necessary to recalculate the lunar for new coordinates.
The lunar horoscope is a kind of matrix that preserves the tendencies laid at the time of the lunar return, during the coming lunar month.
Select the date, time and place birth:
♄ Saturn in 4 home of the lunar horoscope
Full or partial breakdown of relationships with family, parents. the beginning of life separately. Conflicts and unpleasant events in the family. When confirmed by other indicators - the death of a senior relative or one of the parents. Heavy family obligations, the burden of domestic cares. Delays in resolving housing, property problems, issues of propiska, citizenship, rent, purchase or sale of housing. Transactions with real estate do not bring profit. Delays in payment, calculation. All this is arranged in the end, not the way a person counted. Repair or construction of housing, other premises. Economic problems. In the negative aspect - an attempt, an attack, the possibility of an accident. Loss of crops in their farmlands. The calculation of the inheritance is vain. All unpleasant events usually happen at the end of the individual year. The position is not favorable for a political or public figure, a major leader. It is possible to overthrow or deprive a position.
♄ Saturn in the houses of the lunar horoscope
Comments: