Lunar horoscope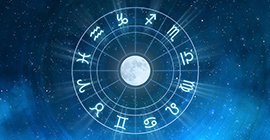 A lunar horoscope is a map compiled at the time when the transit moon returns to the position it occupied at the moment of the birth of the person (native). Lunar return is repeated approximately every 27 days and 8 hours - this is the sidereal cycle of the Moon. This horoscope is calculated using the coordinates of the place in which the person was or plans to be. In the case of moving and finding at this time in another locality, it is necessary to recalculate the lunar for new coordinates.
The lunar horoscope is a kind of matrix that preserves the tendencies laid at the time of the lunar return, during the coming lunar month.
Select the date, time and place birth:
♄ Saturn in 5 home of the lunar horoscope
Promotes strengthening of a love affair, intimate relations, overcoming of the obstacles connected with it. Agreement on the continuation of relations. But even with good aspects - dissatisfaction with this connection. Reduced sexual needs, a person feels reluctance to physical intimacy. The acquisition and consolidation of a certain status in a secular society (with an average standard of living - just in the company). A person seeks recognition, respect. It is difficult, with obstacles, creative processes. Restrictions in art, impossibility of easy nomination. Children bring trouble, communication with them is difficult, educational measures do not work. A difficult year for adult children, perhaps the period of their formation, the struggle for independence, the achievement of success in life. For a woman - a severe pregnancy, protracted labor, perenashivanie. Internal and often external loneliness, which brings suffering. When connected to Mars or the Sun, man himself produces actions that can destroy the love relationship. These and other negative aspects also give serious troubles with children, their failures, leaving home. For a woman, the inability to conceive or terminate a pregnancy. A poor situation for financial transactions, risky activities, gambling, speculation because of the high probability of losses.
♄ Saturn in the houses of the lunar horoscope
Comments: