Lunar horoscope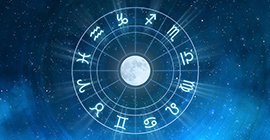 A lunar horoscope is a map compiled at the time when the transit moon returns to the position it occupied at the moment of the birth of the person (native). Lunar return is repeated approximately every 27 days and 8 hours - this is the sidereal cycle of the Moon. This horoscope is calculated using the coordinates of the place in which the person was or plans to be. In the case of moving and finding at this time in another locality, it is necessary to recalculate the lunar for new coordinates.
The lunar horoscope is a kind of matrix that preserves the tendencies laid at the time of the lunar return, during the coming lunar month.
Select the date, time and place birth:
♅ Uranus in 10 home of the lunar horoscope
Unexpected changes in professional affairs. There may be a change of place of work, position, changes in the state of a career. A complete reorientation of activities, interests and aspirations is possible. Rethinking the life goal. Sudden events that interfere with a person's plans, interfere with the implementation of plans and tasks. Often means the beginning of an update, a new life cycle. This is a very important year for a person. He becomes subject to all sorts of surprises. Success comes in an unexpected way. Collisions with authorities and official bodies, claims to a person on their part. Freedom of the will of man under threat, he is subject to external influences, circumstances, ridiculous situations. Everything that happens to him happens in addition to his will. To make changes positive, he should only take advantage of the opportunity. Relations with the mother can suffer. Also, her health is subject to crises, sudden deterioration of the state. Negative aspects of Uranus make unexpected situations unpleasant, dangerous for humans.
♅ Uranus in the houses of the lunar horoscope
Comments: