Lunar horoscope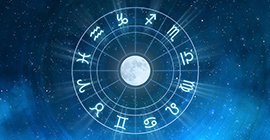 A lunar horoscope is a map compiled at the time when the transit moon returns to the position it occupied at the moment of the birth of the person (native). Lunar return is repeated approximately every 27 days and 8 hours - this is the sidereal cycle of the Moon. This horoscope is calculated using the coordinates of the place in which the person was or plans to be. In the case of moving and finding at this time in another locality, it is necessary to recalculate the lunar for new coordinates.
The lunar horoscope is a kind of matrix that preserves the tendencies laid at the time of the lunar return, during the coming lunar month.
Select the date, time and place birth:
♅ Uranus in 4 home of the lunar horoscope
This situation primarily deprives a person of the feeling of stability of life, sows anxiety and panic. A great desire for independence, a desire to escape from the care of parents and domestic, to start an independent life. Disregard for your family responsibilities. Changes in the house, in the family. Can mean the acquisition of home audio and video equipment, a computer, the achievements of modern technology, perfecting domestic work. With a negative aspect often indicates a divorce of parents. Loss of property, unexpected damage to housing. Conflicts in the family, the rapid clarification of relations. A sudden change of place of residence is possible.
♅ Uranus in the houses of the lunar horoscope
Comments: