Lunar horoscope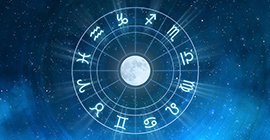 A lunar horoscope is a map compiled at the time when the transit moon returns to the position it occupied at the moment of the birth of the person (native). Lunar return is repeated approximately every 27 days and 8 hours - this is the sidereal cycle of the Moon. This horoscope is calculated using the coordinates of the place in which the person was or plans to be. In the case of moving and finding at this time in another locality, it is necessary to recalculate the lunar for new coordinates.
The lunar horoscope is a kind of matrix that preserves the tendencies laid at the time of the lunar return, during the coming lunar month.
Select the date, time and place birth:
♅ Uranus in 8 home of the lunar horoscope
Unexpected sexual contacts (possibly with former partners), which the person did not plan. Suddenly, partners remind themselves of themselves, who fell out of the constant circle of communication. Often the year is marked by a serious mental state, as well as a health disorder, the emergence of unusual, extreme situations, sometimes hazardous to health. Criminal cases initiated by the will of other people or circumstances. There may be news of someone's death. Complications when entering into ownership rights, in the implementation of financial transactions and projects. Problems with inspection organizations, with taxes, duties, loans, promissory notes. The year is unfavorable for the placement of capital. Unexpected events in relation to the expected profit. Negative aspects aggravate these unpleasant moments.
♅ Uranus in the houses of the lunar horoscope
Comments: