The solar horoscope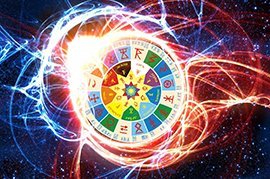 Solar's method allows to identify the potential of events that can occur to a person during his solar year. Similarly, if necessary, you can identify events that can not happen, and exclude them from further consideration. In fact, Solyar is a transit card fixed at the time of the Sun's return to its natal position, taking into account the coordinates of the locality where the person was (!) At that moment.
Select the date, time and place birth:
11 house of the solarium in 12 house of the natal horoscope
Indicates the collapse of plans, unfulfilled hopes. In a more favorable form - the troubles and troubles associated with the implementation of plans, the hope for easy implementation. Can indicate a change in a friendly environment, the "re-qualification" of friends in secret enemies, the approach of a hidden ill-adversary under the guise of a friend. Also, troubles and disappointments due to semi-friendly-semi-liaison relations, because of fans and like-minded people. In general, disappointment in friendship. Often changes in the worldview of friends, their ideological platform and attitude towards man, in particular. Plans may relate to covert activity, detective work, own intrigues. It is also an occult activity, and a desire for solitude. It can mean acquaintance and good relations with astrologers, occultists, emigrants, monks, outcasts of society. In a heavier version - if the indicators of the house are damaged - dark forces, the mafia interfere with the plans of the person, or the person is forced to change plans due to imprisonment in one way or another (imprisonment, taking into custody, placing in a hospital, etc.). Also because of this or that kind of forced emigration and moving to unusual places, which is accompanied by a change of environment and some isolation from society.
11 house of the solarol in the homes of the natal horoscope
Comments: