The solar horoscope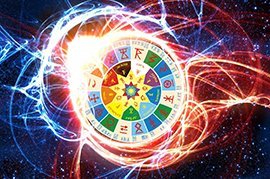 Solar's method allows to identify the potential of events that can occur to a person during his solar year. Similarly, if necessary, you can identify events that can not happen, and exclude them from further consideration. In fact, Solyar is a transit card fixed at the time of the Sun's return to its natal position, taking into account the coordinates of the locality where the person was (!) At that moment.
Select the date, time and place birth:
11 house of the solarium in 3 house of the natal horoscope
A person associates great hopes with travel or with correspondence. Hassle and bustle over the affairs of friends, people are actively involved in their personal lives. Strengthening ties with the environment, brothers and sisters, neighbors. Mutual services. Some plans and projects are also associated with writing, writing, drawing up documents, important papers, signing contracts and the results of mediation, intellectual or literary activity. Plans related to study. The year is favorable for passing exams, taking part in competitions, competitions, entertainment, exhibitions. Perhaps an important acquaintance by correspondence or thanks to the efforts of friends, neighbors, close relatives. At adverse factors of the house - difficulties in contacts, trips, training.
11 house of the solarol in the homes of the natal horoscope
Comments: