The solar horoscope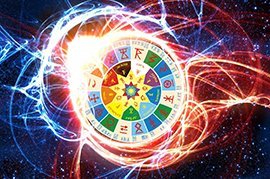 Solar's method allows to identify the potential of events that can occur to a person during his solar year. Similarly, if necessary, you can identify events that can not happen, and exclude them from further consideration. In fact, Solyar is a transit card fixed at the time of the Sun's return to its natal position, taking into account the coordinates of the locality where the person was (!) At that moment.
Select the date, time and place birth:
11 house of the solarium with 2 house of the natal horoscope
The plans and hopes of man this year relate mainly to the problem of material security. Questions of earnings and spending, gaining financial independence are resolved in one direction or another, judging by the indicators of the house. In terms of cash receipts and expenditures, the role of human friends and associates is great, i.е. they help how to earn, and spend, again judging by the indicators of the house. When confirmed by other indicators, a person can live a year at the expense of a friend or - sometimes - a lover. The tying of financial relations with friends, with the defeat of the house - unsuccessful. Birth of financial projects.
11 house of the solarol in the homes of the natal horoscope
Comments: