The solar horoscope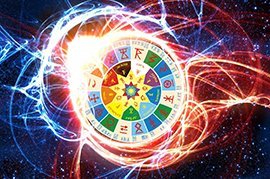 Solar's method allows to identify the potential of events that can occur to a person during his solar year. Similarly, if necessary, you can identify events that can not happen, and exclude them from further consideration. In fact, Solyar is a transit card fixed at the time of the Sun's return to its natal position, taking into account the coordinates of the locality where the person was (!) At that moment.
Select the date, time and place birth:
5 house of the solarium in 1 house of the natal horoscope
A person shows increased activity in secular life, takes part in entertainment, receptions, as well as gambling. His creative energy is enhanced, allowing him to create masterpieces in his field. The year is favorable for people of art, - the year of recognition, the disclosure of talent, the creative upsurge. Increases sensuality, the desire for love experiences. Love adventures. With the confirmation of other indicators of the home and other methods of prognosis, we can talk about conception, pregnancy and the birth of a child. Children's affairs can have a significant impact on a person this year.
5 house of the solarol in the homes of the natal horoscope
Comments: